"Changing Gender Orders in Sri Lanka: Challenge, Backlash and Change," convened by Jeanne Marecek, Colombo, December 2012. The workshop brought together 20 scholars, students and employees of NGOs to consider the different ways in which young women from different social backgrounds and locales in Sri Lanka are dealing with the challenge of "becoming modern". Formal presentations were made by Asha Abeyasekera, Jeanne Marecek, Malin Jordahl, Eshani Ruwanpura, Kanchana Bulumulle, Jody Miller, Revati Chawla, Harini Amarasuriya, Farzana Haniffa, Jayanthi Kuru-Uthumpala, Shermal Wijewardene, Gameela Samarasinghe, Sepali Kottegoda and Swarna Jayaweera.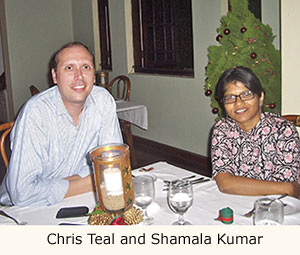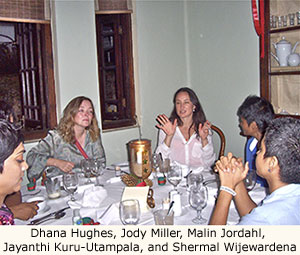 "Messenger Poetry in Sinhala Literary Culture," convened by Charles Hallisey, Colombo, August 2012.  The workshop focused on questions of how we might read Sinhala sandesa poetry most profitably as literature, but also in ways that yield better understandings of the tradition of sandesapoetry within the broader contours of Sinhala literary culture;  issues discussed ranged from preserving performance traditions for sandesa poetry to patterns of dense intertextual references insandesa kāvya and the modern reception of messenger poetry.  There were fifteen participants, with scholars from the University of Peradeniya, the University of Colombo, the University of Kelaniya, and the Open University in attendance;  Yigal Bronner who works on sandesa kavya in Sanskrit and is from the University of Chicago and Hebrew University in Jerusalem also participated.
"Historical Interpretation," convened by John Rogers, Colombo, July 2012.  Around 25 persons participated in the workshop, including scholars from Singapore, the Netherlands, the United Kingdom and the United States.  Sri Lankan participants included scholars from the University of Colombo, the University of Kelaniya, the University of Jaffna, the University of Peradeniya, Sabaragamuwa University, and the Open University.  Presenters included Sujatha Meegama, Zoltan Biedermann, T. Sanathanan, Sidharthan Maunaguru, Prasannan Parthasarathi, Nira Wickramasinghe and Sujit Sivasundaram.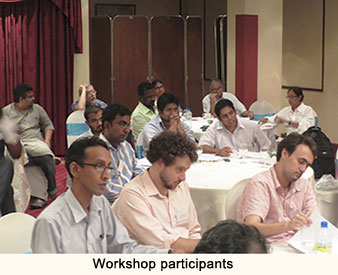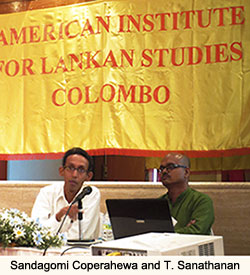 "The Bhikkhuni Revival in Sri Lanka," convened by Susanne Mrozik, Colombo, April 2012.  The workshop included presentations by Wei-yi Cheng, Gihana Ramesha de Silva, Hema Goonatilaka, Yu-chen Li, Susanne Mrozik, Ranjith Perera, Asanga Tilakaratna, and Senarat Wijayasundara.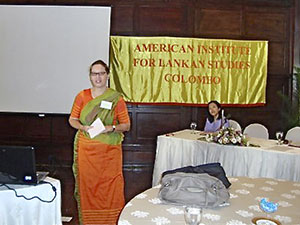 Susanne Mrozik Opening the Workshop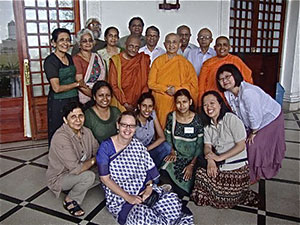 Workshop Participants